Mum would love something different for Mother's Day (31st March 2019 in the UK) this year! Give her a change from the usual bunch of flowers and chocolates. Show her how much she means to you by getting her something as unique as she is. And stay in her good books for the rest of the year 🙂
Check out the list of ideas below for a variety of presents in different categories and budgets that are guaranteed to put a smile on her face! You're bound to find one that is the right present for your special mum!
The Food Loving Mum
"Mummy and Me" Aprons from Rocket and Fox at Etsy, available here – £34.00
What is cuter than a "mummy and me" apron to help her bake in the kitchen? Etsy has a variety of aprons available in a range of different styles and colours but I love these eye catching red ones from Rocket and Fox.
Check out some more of their other great Mother's Day presents here, including personalised baking tools and a great cake stencil to make an awesome Mother's Day cake.
Personalised Cheeseboard from Toxic Fox, available here, £26.99
This great, stylish cheeseboard from Toxic Fox, for cheese loving mums, includes 3 cheese knives and a fork, hidden in the board for an additional surprise 🙂 This beautiful board can be personalised for an extra special touch.
Marble rolling pin, including wooden stand from Amazon, available here, £17.99
If mum loves to bake, she will absolutely love this marble rolling pin! The naturally cool marble will keep the dough at the optimum temperature and reduce the sticking of dough to the rolling pin. Less stress for mum = more baking and more cakes to eat for you 🙂
Teatime Delights Hamper from Amazon, available here, £29.00
Who says hampers are for Christmas time? Hand packed with lots of her favourite goodies to enjoy at any time of the year. Including Belgium chocolates, crunchy cookies, Scottish shortbread, cake, crisps, popcorn, English tea and much more for mum to enjoy!
Personalised movie quote popcorn bowl from Not on the High Street, available here, £16.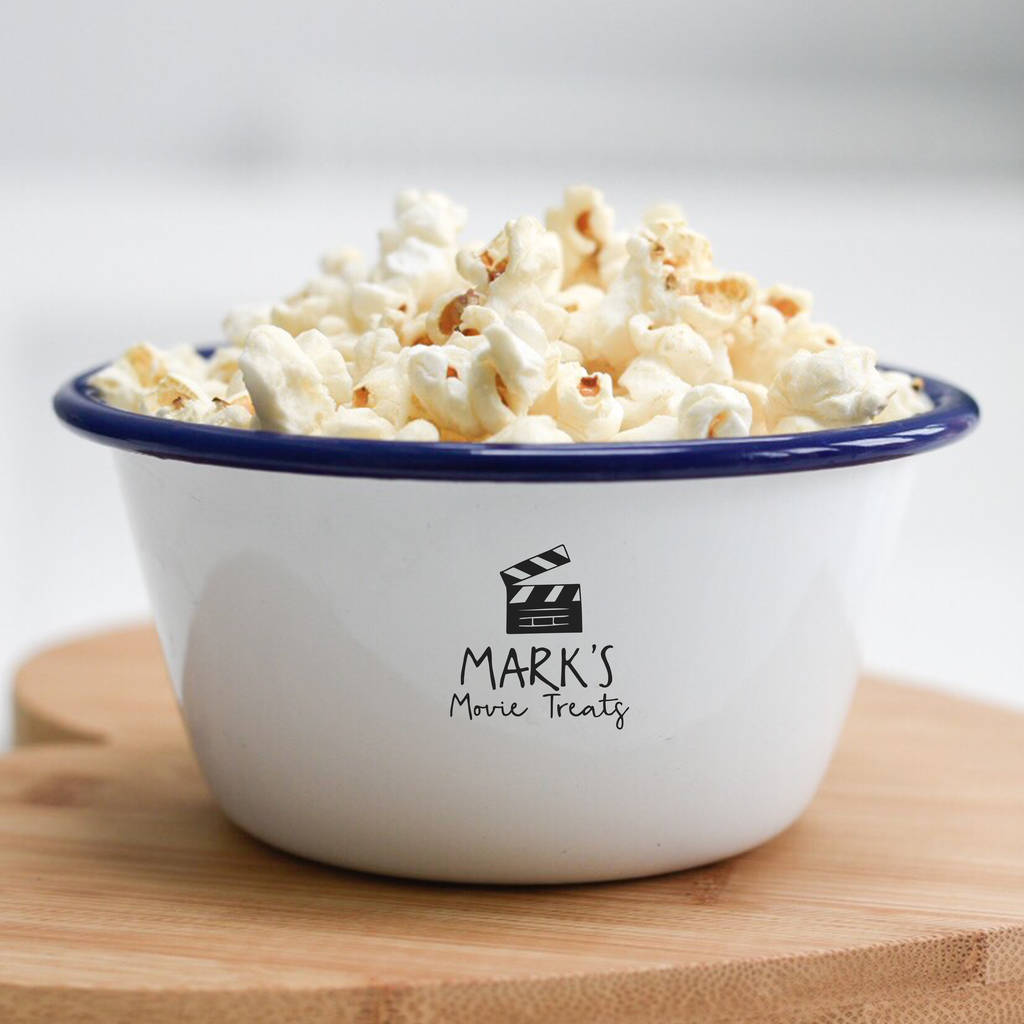 Add a bit of fun to every movie night with this great personalised enamel popcorn bowl with mum's favourite movie quote! Fill it with her favourite sweets and you're all set to make her day.
The beauty loving mum
Pamper box Letter Box Gift set from Not on the High Street, available here – £32.95 + delivery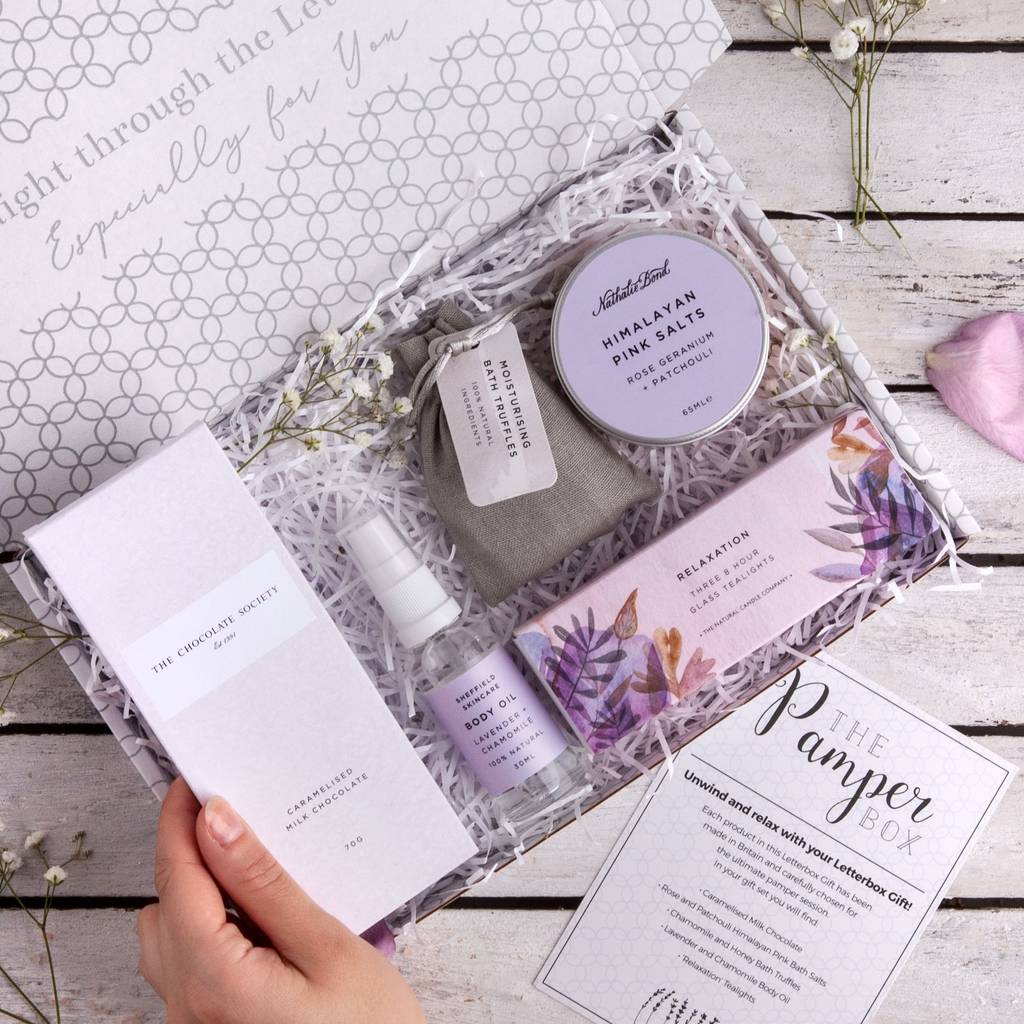 Everything that mum needs for a relaxing spa at home, personalised with a lovely greeting card. Wrapped in tissue and designed to fit through the letter box for convenient delivery, ready and organised in time for Mother's Day.
Urban beauty Vanity Case from Amazon, available here – currently on sale at £22.99 (correct at time of publishing this post)
This 60 piece vanity case has everything mum needs! If your mother loves beauty products then this is a great option, especially at this reduced price (normally £39.99). The case itself is super-handy for travel or convenience storage.
This great present contains 8x Eyeshadow Quad Palettes (32 Individual Colours) 4x cream eyeshadows 2x Blushes 2x Lipglosses 2x Lipsticks 4x Nail Polish 1x double-ended Eye Pencil 1x double-ended Eye Pencil 1x Eyebrow Pencil 1x double-ended Lip Pencil 1x Mascara 2x double-ended applicators 1x Blusher Brush 1x Selection Nail Stickers 1x Pencil Sharpener 1x Toe Separator 1x Nail File 1x Nail Clipper and a elegant, re-useable, silver case (with an in-built mirror) to hold all cosmetic essentials.
Personalised Make-up bag from RiRoDesignsCo at Etsy, available here, £18.10
I absolutely love this unique personalised make up bag with a hidden surprise message on the inside of the bag. It's ideal for keeping all your make-up and beauty stuff, but also big enough to take with you when you're traveling. And what mum doesn't want to be told she looks beautiful every time she uses it?
Instyler Straight Up Hair Straightening Brush from Amazon, available here – £34.49
If mum loves to straighten her hair, then this is a great convenient present for her and so much easier to use than the usual straighteners. The Instyler Straight Up Ceramic Straightening Brush is sleek and compact which is great for touch-ups and last minute styling on the go. It straightens hair in half the time compared to normal straighteners and comes with a 3 m long (!) professional cord.
Heathcote and Ivory Salsa Silks Bathing Flowers from Amazon, available here, £11.00
Create a spa-experience for mum in the comfort of her own home. Give the bathroom a tropical touch with the smells of lemon and sweet orange. With essential oils and glycerin, revitalising notes of Lime, lotus flower and cedar wood to treat your mother to some well deserved relaxing "me time" 🙂
The gadget techy loving mum
Neato Robotics Botvac D7 automatic hoover from Amazon, available here, currently reduced from £799.99 to £549.99
Oh yes, mums love techy gadgets too! Especially if they do the housework for her without having to lift a finger .. (warning to husbands with any bright ideas, irons don't actually do the ironing!)
This year treat her to a present that she will love to receive on Mother's Day and that will continue to help her out during the year .. and beyond! This little buddy can start, stop, schedule and receive messages even if you're not at home. Neato has 120 minutes of running time per charge and will return itself back to base to recharge. Ready to pick up where it left off! This will definitely get you in her good books.
Orbit Selfie Button and Key Finder, Rose Gold from Ebay, available here £29.99
The perfect fashionable keyring if your mother has a habit of misplacing her keys! And of course for those who love a selfie 😉 This sleek and modern looking gadget can be used as a remote, taking a selfie or group photo from 30m away. Available in different colours, but love this very popular rose gold option.
DBigness Unicorn external portable charger suitable for iPhone and Samsung from Amazon, available here, £10.99
What mum doesn't need a unicorn in her life? This fun and quirky Unicorn power bank is suitable for charging various iPhone as well as Samsung models. Ideal to take with you for work, travel or a day out and the design makes a great change from the boring "standard chargers" to add a bit of fun and colour to her day.
Fujifilm Instax Polaroid Camera, from Amazon, available here currently reduced from £74.99 to £69.00 (correct at time of writing post)
Let mum relive the "good old days" with a modern take on the polaroid camera that allows instant printing of pictures. With inclusive Selfie mirror. It is the 21st century after all 🙂 Easy to use, a great colour and great for any mum who loves to take pictures.
The Bedside Smartphone Vase from Uncommon Goods, available here, £24.80
Combine style with technology with this part smartphone stand, part vas. Handmade, this bloom box holds a bouquet of fresh-cut flowers or ever-lovely dried blooms whilst charging your mobile phone. Handmade in Pittsburgh, Pennsylvania but available in the UK.
For the stylish mum
"I'm a cool Mum" t-shirt from Rivers Journey at Etsy, available here – from £13.70
This one from RiversJourney is available in over 20 different colours and a variety of different styles so you are bound to find the colour that she loves most. Check out RiversJourney on Etsy for a personalised t-shirt in different print options. For the coolest mums and a great option to show off this summer.
Travel Tote with Vegan Pleather from Antique Basket Lady at Etsy, available here, £54.01
This gorgeous beige handmade bag with travel map details and made with vegan pleather would be a great addition to any mother's wardrobe. With lots of room for all day to day necessities. Every mum needs a stylish bag and this one ticks all the boxes!
Rose gold seashell white watch from Paul Valentine, available here, £119
If you want to get into mum's good books then this will definitely do the trick! Paul Valentine have some stunning watches and jewellery, but their seashell range is by far my favourite. Available in a variety of different designs and colours. A great gift for stylish mothers of all ages which she can combine with any outfit.
Cream bird print cotton pyamas from Next, available here, £24
Made from 100% cotton for ultimate comfort, and in an all-over bird print. Perfect for stylish lounging around on a duvet day. With spring nearly here, this is a great present choice.
Lipsy Medium Square Frame Sunglasses from Next, available here, £18
Get that "summer feeling" by treating mum to a nice pair of stylish sunglasses for Mother's Day. Ready to get into the holiday mood.
For the Vegan mum
Vitamix Blender from Amazon, available here, £675
First let me tell you why the Vitamix is so amazing and so worth the investment (we bought one at the Ideal Home Exhibition a few years ago during a crazy moment!) and we've not regretted spending the money. One.little.bit.!
This baby blends anything. So why for the vegan mum? Well, apart from the obvious smoothies, it makes soup (it even heats it for you!), hummus, falafels, pesto, vegan ice-cream, hazelnut spread and all types of different milk (almond, hazelnut, cashew etc.). All created super fresh without additives. Of course it creates all this, and more, for the non vegan mums too 😉
Vegan Mummy key ring from HL Bespoke, Etsy, available here, £7
Get her this hand stamped keyring for the proud vegan mum who wants to tell the world! A sleek design that she will love to show off.
"Cher", Vegan designer hand bag from Gunas New York, available here, £143.12
The lovely "Cher" is made entirely of the finest vegan leather and perfect in every way! Complete with internal pockets, gold plated detail and long shoulder straps. Great for showing off and more importantly it's completely vegan with plenty of room to hold everything she needs to take with her every day.
Vegan chocolate and snack treat gift box from Amazon, available here, £24.95
Who says being vegan has to be boring? For Mother's Day treat her to a variety of 13 different chocolate and snack bars. She will absolutely LOVE that you've found so many vegan treats, especially for her to enjoy.
A pet Avocado 🙂 from Tin of beans at Etsy available here, £5.50
Wanna avo-cuddle? 😉 This pet avocado is a quirky Mother's Day gift for any fun loving vegan (or non-vegan!) mum. And there's a whole collection of different veggie pets to collect. Check out the Tin of Beans website to see the full range!
For the fun loving mum
Photo bookmark from Love to Create at Not on the High Street, available here, £10
Continue to bring a smile to mum's face beyond Mother's Day. She'll love this present all over again every time she reads her book. Available in a variety of different colours background, text and tassels to match her favourite style.
Personalised Wooden Photo Coaster from Happily Rustic at Etsy, available here, £7.95
These beautiful personalised, natural wood slice coasters are decorated with your favourite images. They are finished with several coats of hard wearing matt varnish to ensure they are fully protected against liquids, hot drinks etc. A present that she will be able to enjoy for many years to come!
Little Miss Busy Surviving Motherhood book from Find me a Gift, available here, £6.99
This hardback tongue in cheek "Mr Men for grownups" book tells the tale of Little Miss Busy. A funny book about the trials and tribulations of motherhood that will strike a chord with every new mum. A great choice for a Mother's Day present.
Blooming Lily Luxury Bath Tub Caddy Tray from Amazon, available here, £35.99
Mum deserves this present that lasts looooong beyond Mother's Day. This Luxury Caddy, available in 2 colours, allows mum to relax in the bath whilst being able to chat on the phone with someone special, watch her best-loved movie or reading her favourite book. All while enjoying a lovely glass of wine or relaxing cup of tea. Add a few candles for her to enjoy a spa experience in the comfort of her home at the end of a hard day.
Mermaid cozy blanket by Prezzybox, available here, £19.99
This one is perfect for snuggling on the sofa. Enjoy lazy days reading, surfing the web or catching up on a box set with this blanket that is designed to keep mum's feet nice and warm:)
Need more inspiration? Does mum love styling her home? Then check out these 2 posts for 5 gorgeous tray spring displays and where to buy the items as well as this one: 40 further inspiration for tray designs she would love to have.
Alternatively here are 18 ideas for Hand and Finger print DIY ideas to that mum would love as a keepsake!
Some of the links in this post are affiliate links which means I get paid a small commission if you choose to use my links (for which I would be grateful if your do :), at no additional cost to you whatsoever. I only recommend products I absolutely love and have no hesitation in recommending to you.